Is Fluoride, a neurotoxin, in your water? Well, test it with

Mini Fluoride Checker Test Kit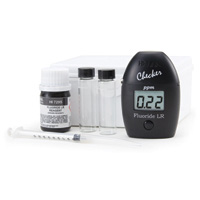 $69.95
•Easy to use and accurate
•Six reagnet tests included
•Reading accuracy at ±0.05 ppm
•Single button operation: zero and measure
•Small in size but large, and easy to read digits
•Ideal for water quality
•Operated by a single AAA battery
•Auto shut off



This Mini Fluoride Test Kit is an impressive test kit for fluoride. It can spot low levels of fluoride in tap water. It is small; actually fits into the palm of your hand but it is big on convenience with large and easy to read digits. Use the Mini Fluoride Checker for quick and accurate analysis.

The Mini Fluoride Test kit is simple to use. For this measurement you need 2 vials (#1 and #2); in both vials add 2 mL of reagent and until the mark: deionized water in vial #1 and sample in vial #2, and gently invert 5 times, and wait 2 minutes. Then insert the cuvette #1 into the Mini Fluoride Test kit and press the button to zero; after that cuvette #2 to read the measurement results.

The Mini Fluoride Test kit comes with complete test instructions. You will be able to make six tests with this kit and you can purchase additional reagents to do more tests.
What is Fluoride?
Fluoride has been claimed to have beneficial effects on teeth at low concentrations in drinking-water, but a flood of research revealing several adverse effects is calling into question claims of benefits from fluoride. It is known that excessive exposure to fluoride in drinking-water, or in combination with exposure to fluoride from other sources, can give rise to a number of adverse effects.
Fluoride Pre-Filters
What do you do if fluoride is in your water? If you live in metropolitan city area, you most likely will have fluoride in your water. In fact well water can have naturally occurring fluoride in the water. The fluoride placed in municipal water systems are toxic substances, and the bag it comes in says so clearly. So far no one has been able to provide a reasonable explanation as to why it is placed in water intended for people to drink. The best solution is to install a fluoride reduction filter such as our Fluoride removal filter.
Related Fluoride products
| | | |
| --- | --- | --- |
| | | |
| | Fluoride Test Kit | |